2012
designer
fall
fashion
omaha fashion week
photography
OFW Tuesday Favorites: Avant Garde
Sunday, September 2, 2012
Omaha Fashion Week has finally passed and I am one exhausted lady. Wearing heels while running around (especially on brick roads) can really do damage after a while. Minus all the pain from the heels, the week was pretty amazing. I met so many inspiring people and I've made quite a few friendships. It feels wonderful to be a part of the team and I feel very blessed to be working with five other amazing interns. Together we all made that week happen. I would do it all over in a heartbeat! For those of you who missed out on the wonderful madness, I'm going to list several of my favorites throughout the week.
You can also read up on small recaps I posted on OFW's tumblrblog here:
http://omahafashion.tumblr.com/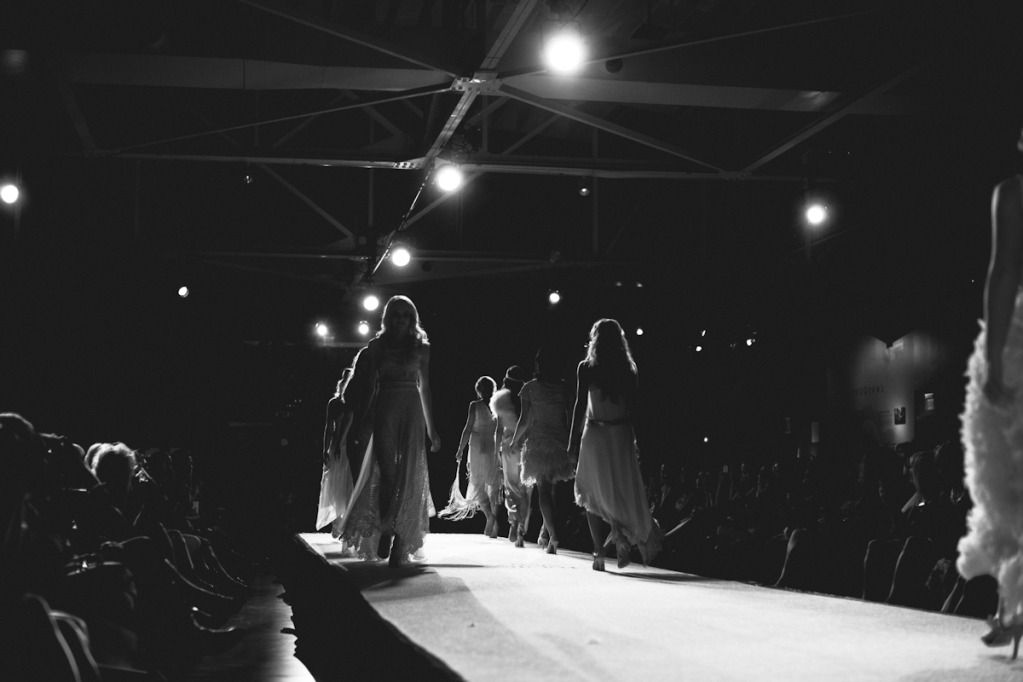 This was one of my favorite nights of the week, hands down. Being an intern at OFW, I had been doing so much research on each one of our designers. Two of them that I had been eyeing for weeks were showing that night and they left me stunned. Not only did they woo me,
Terri Jen Buckner
, one of the first designers to show, completely took my breath away with her timeless designs.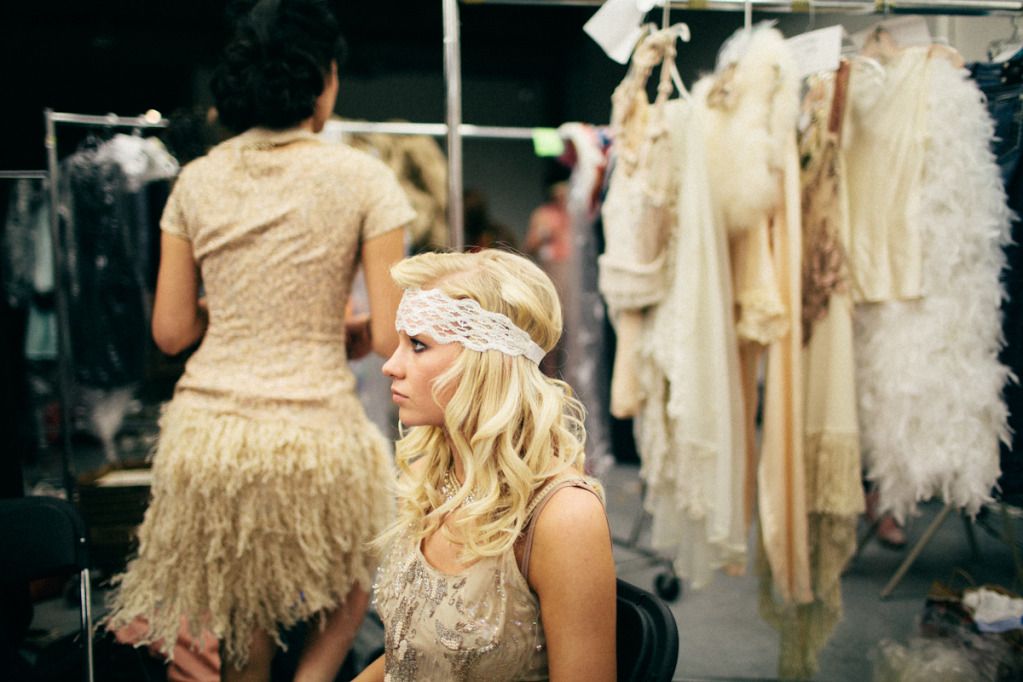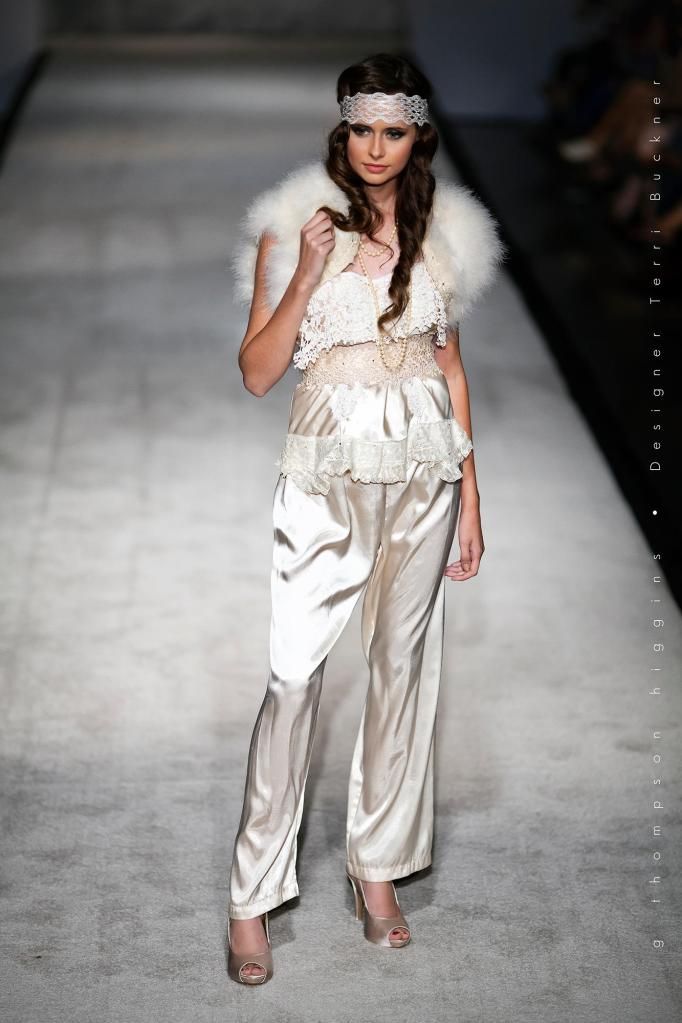 The material, the detailing, everything was perfect. It made me want to take a time machine back to the 1920's and live the life of a rowdy flapper girl. The color pallet, the glitzy headbands, and the flowyness of the garments kind of gave it a bohemian vibe. Not long after miss Buckner's line had gone,
Ellene McClay
's indian warrior goddesses had claimed the runway.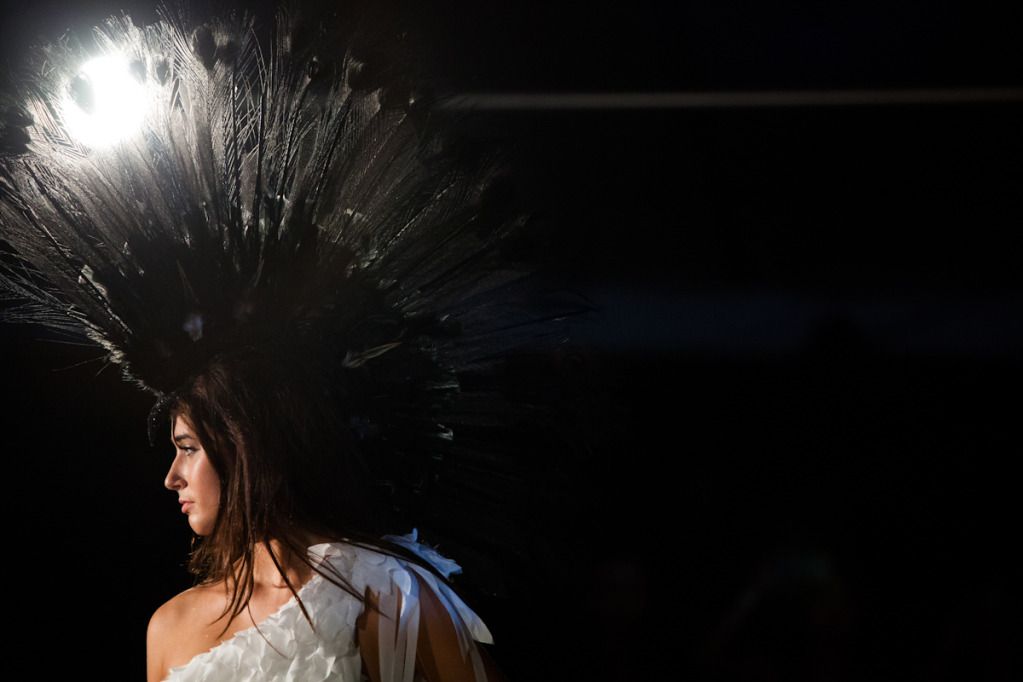 Arrows, face paint, headdresses, and glamorous gowns summed up her collection quite well. I have to say the high-low ruffled streamer dress was my favorite and might I add the styling was spot on. Some of the models even wore silver leg wraps which complemented their dresses very nicely. Everything flowed and that's exactly what you want to see in a collection. After intermission, the long awaited
Audio Helkuik
was on the big screen and in little time her rainbow army came marching out.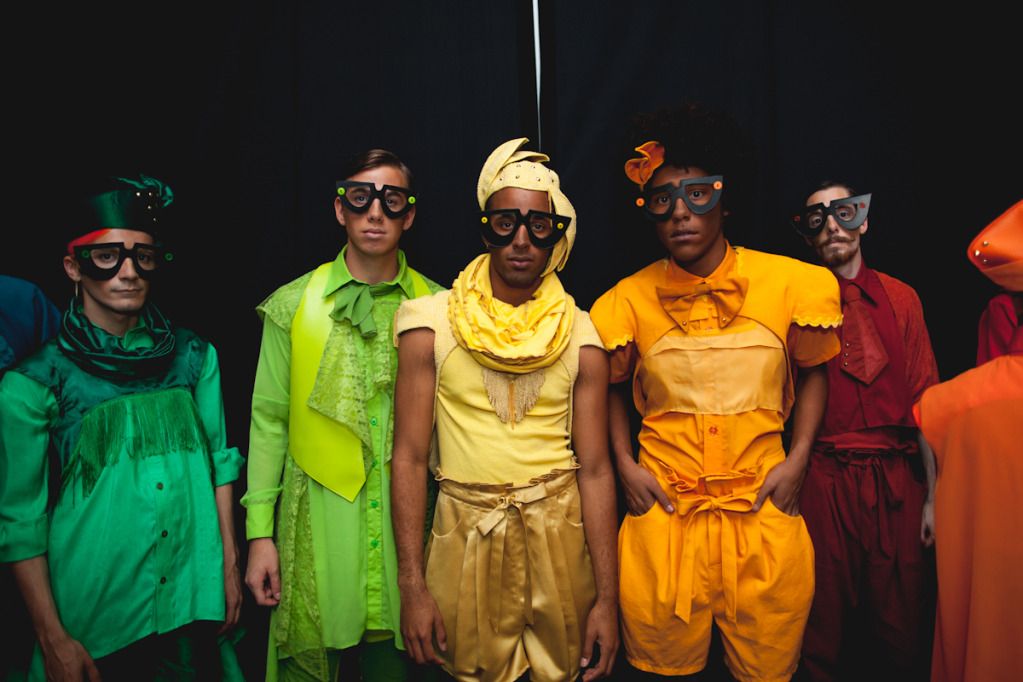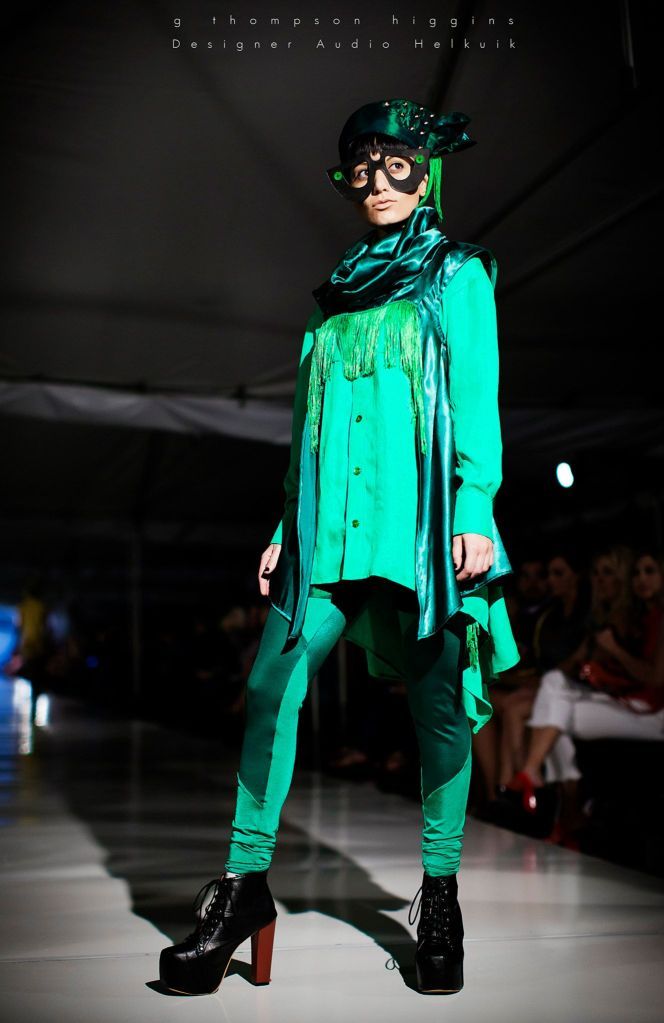 The colors were so vivid and bright. I was literally drooling! I loved how the models added a sense of whimsy and quirkyness while they presented the garments. They were literally all that and a bag of skittles. It was getting to be that time of the night where things usually start to wind down, but there was definitely more energy in the air that night.
Dan Richter's
line was nothing less than awe-inspiring. He even had dancers parade around and dress the models during the show.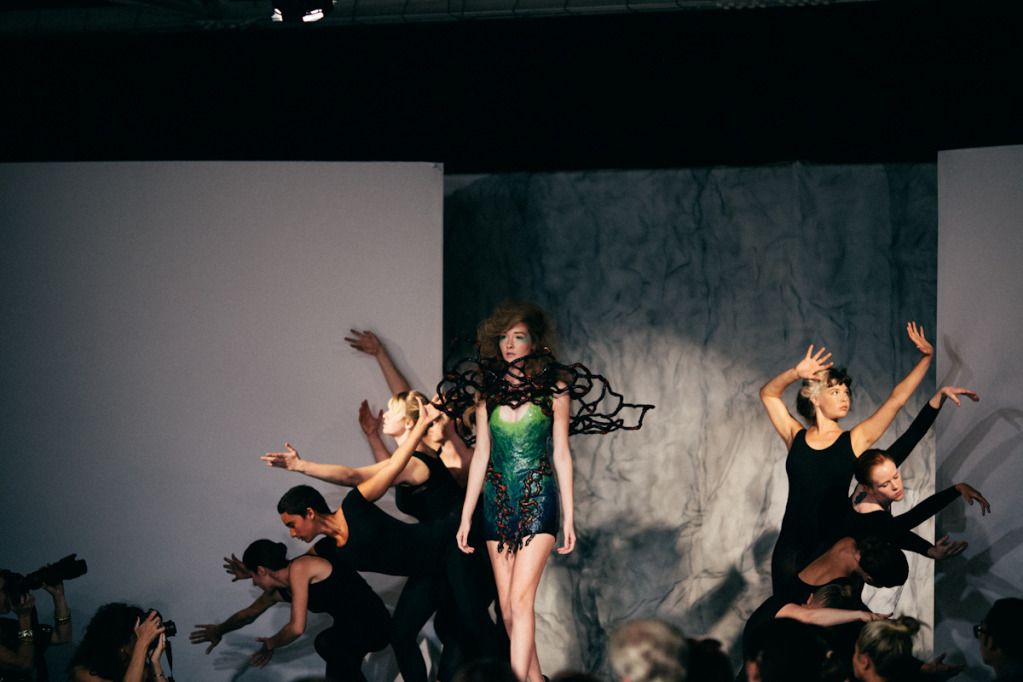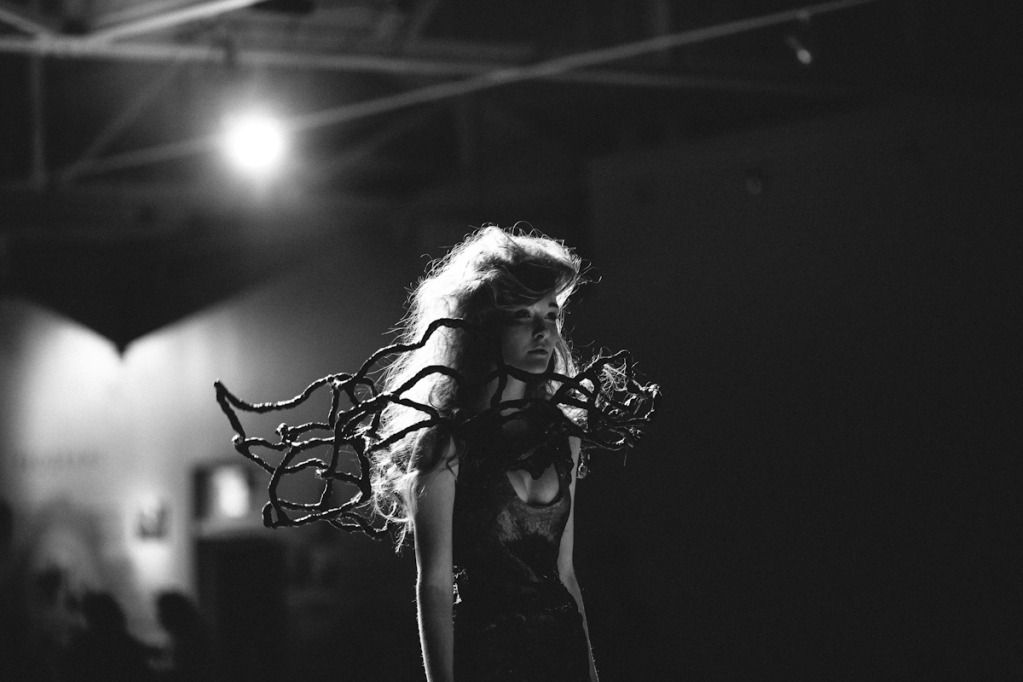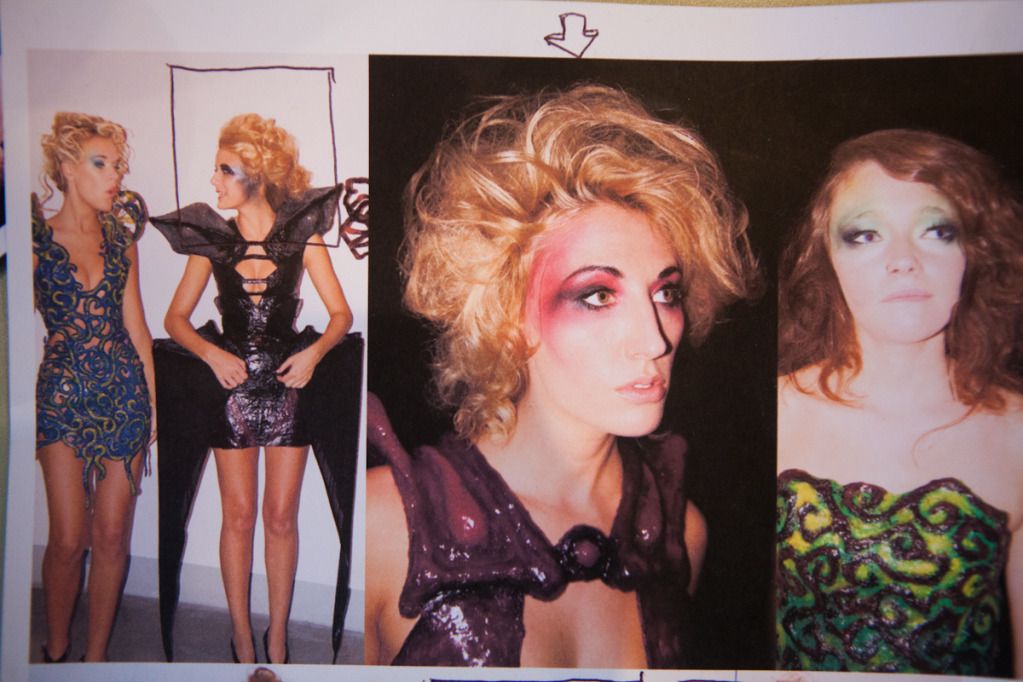 Alienated babes invaded the runway and stole the show. Dan Richter's has been well known for making his fantasies come to life with his designs. The process in making these garments is just amazing. The show definitely ended with a bang Tuesday night. I walked away inspired and that's just what anyone would want after being delighted by designs on the runway.
photographs by greg higgins & muller lumneth conces photography